ELMWOOD JAIL,
701 SOUTH ABEL STREET,
MILPITAS, CALIFORNIA.
The purpose of this website is to shed light on the common abuses and mistreatment of inmates by correctional officers at the Santa Clara County - Elmwood Correctional Facility in Milpitas California.

This website is dedicated to officer J. Ebling. "THE PUNISHER "
Here is the respect he deserves: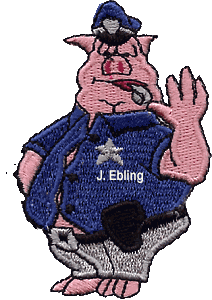 When I was in custody at the farm "Elmwood minimum security camp", I was trying to eat my breakfast one morning in the cafeteria when a correctional officer named: J. Ebling approached me & told me to move to another table. No sooner than I was reseated, he snapped at me again to move to another table.
Then he tells me to stand up, and then sit down again in the same spot. Then he asked me if I was finished eating yet, when obviously I had barely started.
He then started shouting: Are you finished? Why are you taking so long? I simply, answered him, that it was because he kept telling me to move. Then he shouted, "That's it, You get the hell out of here!" He then grabbed my breakfast away from me & threw it away. BEING FED IS AN INMATES RIGHT, NOT A PRIVILEGE!. A correctional officer may under no circumstances withhold food from an inmate for disciplinary purposes. The ironic thing was, I hadn't done anything whatsoever to him. He asked me a question, and I answered it simply and honestly. If he couldn't handle the answer, then he shouldn't have asked the question.

I have witnessed other inmates being deprived of food by correctional officers on 4 occasions over a 12 day period. ( Each occasion appeared to me that the correctional officer was being just trying to be a bully, & that they were acting out their own anger and personal frustrations, on non aggressive inmate victims.) I have also witnessed inmates in the housing units eating toothpaste from being so hungry. From my own personal experience , it seemed Ebling was having a bad day, perhaps because someone else had ticked him off earlier, he chose me to pick a fight with.

This was only one of many examples of inmates being abused by correctional officers at the Elmwood correctional facility, in Milpitas, California. and the Main Jail in San Jose, California. Even though this site is named: Elmwood-Jail.com, its focus will be on both Santa Clara County adult jail facilities, and also Juvenile Hall.




If you or anyone you know has been abused or mistreated while in custody ( or have witnessed abuse ) in any Santa Clara County Jail Facility, by a Santa Clara County Correctional Officer, any DOC staff member, or a Santa Clara County Sherriff Deputy, please email:
inmate.abuse@elmwood-jail.com
Whenever possible, please include the identity of the officer. It due time that they learn to behave
like respectful, civilized human beings. If they respect others, then they will be respected.
If they continue to act as childish bullies, & arrogant condescending fools, then they will be featured
on this website.
---


In theory: Inmates are incarcerated AS PUNISHMENT, not FOR PUNISHMENT.





---


Mercury News Investigation:
Tainted Trials, Stolen Justice

Contact: webmaster@elmwood-jail.com
Disclaimer: This website, & its contents are in no way affiliated or endorsed by the Elmwood Correctional Facility or Santa Clara County, California.
All material on this website is the sole opinion the webmaster and contributing authors.

U.S. Attorneys Manuel | Silicon Valley De-Bug


In all fairness & due respect, I will acknowledge that many, but not all correctional officers in Santa Clara County abusive and corrupt.
Others are decent people that simply have a job to do & they do it well. Officer Snell for example is probably the most feared and respected officer at the
Farm. He also treats the inmates fairly and respectfully & doesn't abuse or degrade anyone . I also want to acknowledge officer Bock who was very
respectful and courteous to me while I was in custody. Officer Bock behaved like a gentleman,
and never treated me less than human. Lt. Doug Taylor was also respectful and professional when I addressed my grievance to him.
I don't know what steps he took toward resolving my grievance. He did promise me a response in writing. As of this publication date, I have yet to receive it.